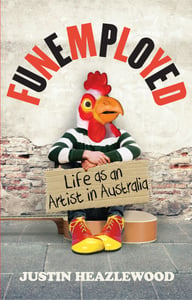 $

20.00
SOLD OUT FOR NOW, SOZ
TRY booko.com.au?
All copies signed by the author
+ Limited Edition bookmark.
(Leave a note if you'd like it personalised).
"It's a wonderful, sad, beautiful, interesting memoir and anyone that's working in music or art in Australia should definitely read it." Marieke Hardy, ABC's The Book Club.
"Perfect for artists who have been at it for years and want to read the story of someone who's telling it like it fucking is."
Amanda Palmer.
"Courageously honest and very funny. Justin's writing is as insightful and hilarious as his songwriting."
Wally De Backer (Gotye)
Funemployed goes beyond the press releases and the hype to show what it's really like to be a working artist in Australia. Through candid interviews, brutal honesty and lacerating wit, Justin Heazlewood (The Bedroom Philosopher) provides a fascinating portrait of life in Australia for artists and aspiring artists alike.