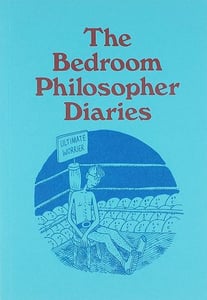 $

5.00
It's On The Road meets The Road.
This 2012 release has long been out of print.
I can email a .pdf proof if you're keen.
"It was what all the great rock and roll touring books would have been like, if the people who wrote them had been honest to the point of embarrassment."
Neil Gaiman.
"When he isn't floundering in overwrought literary passages, Heazlewood can be quite funny."
Australian Book Review.
"With pigeon-toed humour and bruising honesty, this is a tour diary filled with pith and pain, whose observations that will break your heart at some points, and have you grinning like a fool for the rest."
Benjamin Law.
"Bedroom brings the pain. Full of contradictions. By turns too delicate for the world and then too harsh."
Dave Graney.
"The man has moves, on the stage and on the page."
Tony Martin.
A collection of hilarious and melancholic reports from The Bedroom Philosopher and his wealth of experience as a touring Folkstar. Read about his epic battles with drunk punters, scatty rockstars, aloof groupies and, mostly, himself. These tell-all tales allow exclusive access to the depths of the performer psyche.